Sign up for online consultation
Dental treatment with a microscope in Kiev - In the network of dentistry clinics Lumi-Dent
Date of publication:
16.09.2016
Treatment of teeth with microscope
Today in Kiev, the treatment of nerve canals (endodontics) with a microscope has become available.
Photo. Endodontics with a microscope.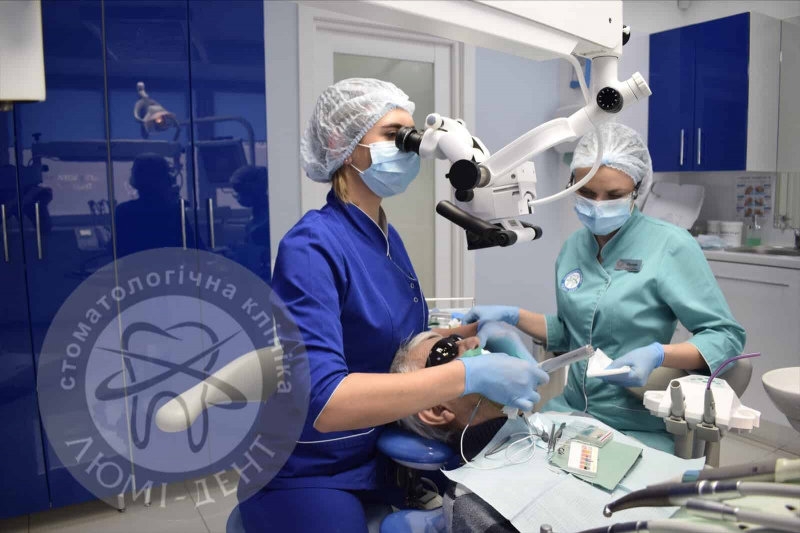 Benefits of dental microscopes
Microscopes are extremely powerful optical systems that are considered to be among the best ones in the world.

Dental microscope allows to carry out complicated manipulations in endodontics (treatment and retreatment of nerve canals) under an enlarged image, which ensures high control and quality of the work performed.

The location and number of canals in the teeth is extremely variable, and it is almost impossible to see all of them without powerful optics, and even more to recover them from an illness at high quality standards.

The optical properties of the dental microscope allow the dentist to see the number of nerve canals in the tooth, their location, as well as the smallest details of fillings, orthopedic structures, which guarantees successful treatment in endodontics, prosthetics, and prevents errors in dental manipulations.

It is possible to see teeth with a microscope very clearly, distinctly, which helps not only in the treatment of canals, but also in prosthetics - processing dental tissues for crowns, veneers, as well as for their fixation on cement.
Due to the lack of a visual image

during endodontic

treatment of nerve canals

, the doctor is often unable to find, clean and fill all the nerve canals.

Endodontic dental care with a microscope allows you to eliminate this problem, and to carry out high-quality cleaning of the nerve canals, their retreatment and filling. Even the level of the apical constriction at the root apex is clearly defined.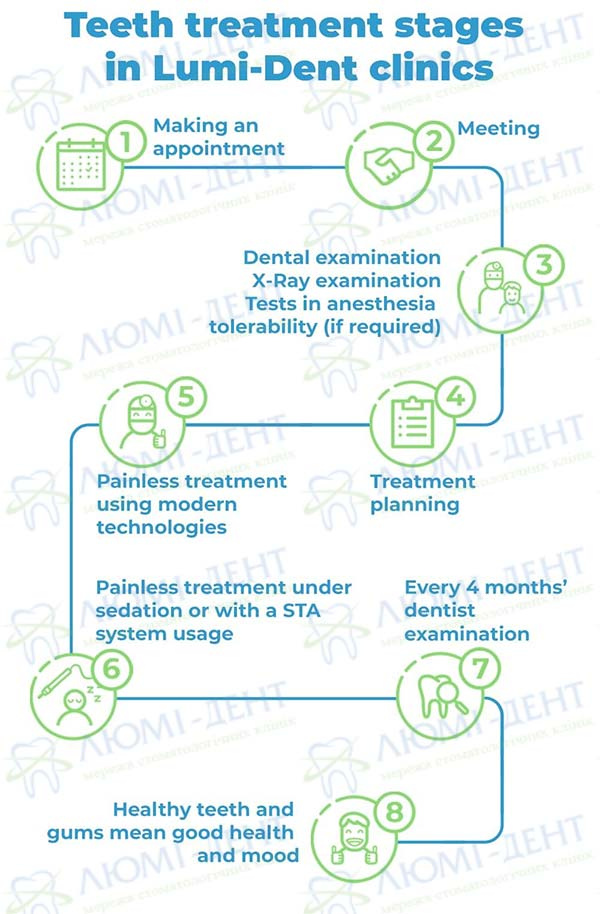 The dental optical system also often helps with the removal of a broken instrument from the nerve canal, which is often not possible without the use of such optics.

Also, a microscope provides invaluable help when unsealing, retreating (cleaning previously treated) canals.
How to have teeth attended with a microscope?
The doctor conducts

treatment with a microscope

sitting behind the patient's head, while the client sits in a chair in the supine position.

All work is carried out by the doctor looking through the eyepieces of a microscope, and the necessary details are recorded using a special built-in video or photo camera.
The presence of photo and video fixation in a microscope allows you to save all the details of dental treatment in an electronic patient record.
And what is more, the camera allows other doctors and assistants to observe the course of the procedure.
Photo. Microscopic dentistry, treatment of tooth canals under a microscope.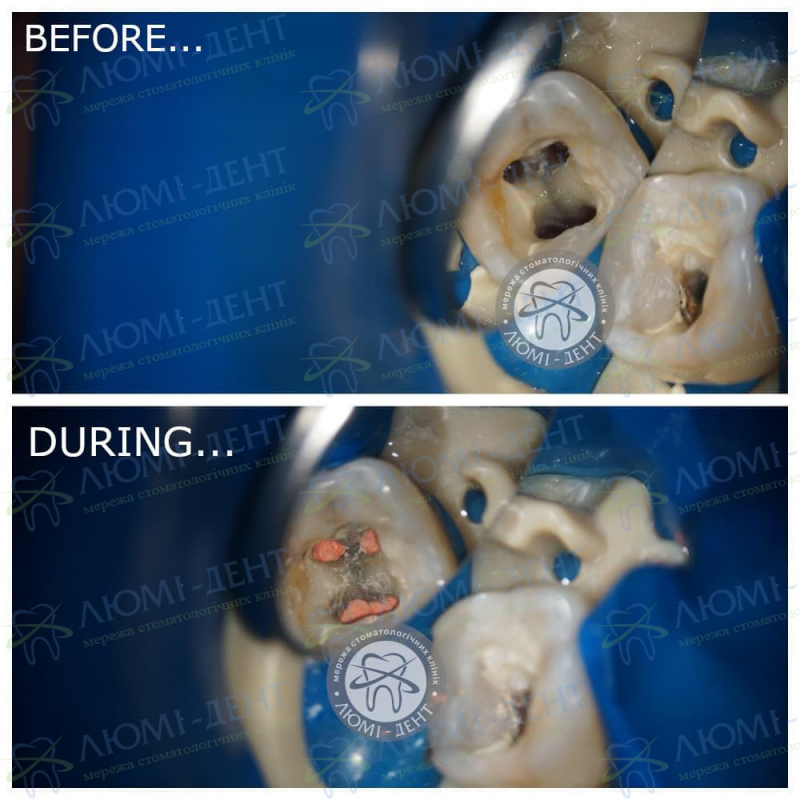 In addition to processing and cleaning, filling of nerve canals, a treatment with a microscope is used for:
diagnostics and elimination of caries;

minimally invasive tooth preparation;

precise fitting of dental crowns, bridges and other orthopedic structures.
It is possible to save the teeth to be removed with the help of a dental microscope.
The new technology of dental treatment in dentistry is indispensable for cleaning and treating inflammatory diseases of the periodontal tissues, such as granulomas and cysts.
Endodontic treatment of cysts with a microscope has significantly increased the percentage of successful treatment of a disease previously difficult to treat. Now teeth with cysts do not need to be removed, most of them can be successfully treated.
A dental microscope makes it possible to:
reduce the number of x-rays;

significantly reduce the removal of damaged dental tissue;

guarantee a consistently high quality result.

carry out an accurate diagnosis of the disease;
An additional quality result adds the ability to serve our customers under a reliable and high-quality STA computer local anesthesia. This technology works without a syringe; even the very moment of administration of the anesthetic is painless. It relieves pain in a very high quality.
There is also an endodontics service with a microscope in a medication sleep.
Table of the cost of using a microscope in dental treatment
| | |
| --- | --- |
| Type of root canals | Price, UAH |
| One root canal | 430 |
| Two root canals | 560 |
| Three root canals | 700 |
| Four root canals | 840 |
Lumi-Dent statistics for 2021:
| | |
| --- | --- |
| Computer anesthesia | 12 154 |
| Procedures made under anesthesia (asleep) | 365 |
| The treated nerve canals with a microscope | 3 526 |
The cost of cleaning nerve canals under a microscope
The cost of endodontic treatment of canals in Lumi-Dent is available in the "Dentistry prices" section.
Reviews
Watch the video with our patients in the "Reviews" section.
Choose best-of-breed!
Sign up for a free consultation today!
Until prices rise - sign up for a free consultation!
Sign up for free online consultation