Sign up for online consultation
Zaitseva Valeria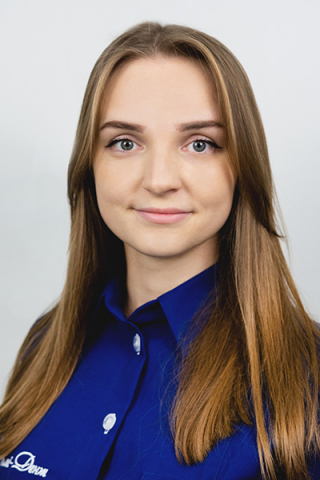 Ortodontist
Make an appointment with this doctor
Orthodontist in the network of dental clinics Lumi-Dent in Kiev, conducts an appointment at the department in Poznyaki.
Education:
Graduated from the Poltava Ukrainian Medical & Stomatological Academy with a degree «Dentistry»;

Passed an internship at the Shupyk National Medical Academy of Postgraduate Education;

Get specialization on orthodontics at the Shupyk National Medical Academy of Postgraduate Education.
Specialization, types of activity:
Treatment of malocclusion in children using removable and non-removable devices, as well as trainers;

Orthodontic treatment with different types of braces;

Correction of malocclusion and position of teeth with the help of transparent cap systems (Easy Align, Invisalign);

Work with microimplants as an additional element and support in orthodontic treatment;

Orthodontic treatment as preparation for prosthetics and implantation.
Participated in seminars and courses:
2021
«Gnathological Orthodontics from diagnostics to the ear of active treatment»;
2019
«Basics of Biotechnology in Orthodontics", Giorgio Fiorelli;
2018
«Functional orthodontics. Back to the future»;

«Scientific approach + biology + experience: aesthetics and biomechanics as a basis of orthodontics»;
2017
«International Orthodontic Symposium»;

«Innovative approaches in the treatment and prevention of orthodontic pathology", 2nd Ukrainian Orthodontic Congress».
Dr. Zaitseva Valeria statistics

2020

Number of consultations

334

The number of braces installed by type

Metal braces

22

Low-profile metal braces

25

Ceramic braces

17

Sapphire (monocrystal) bracket system

8

Self-ligating (metal) bracket system Damon-3 mx

13

Self-ligating (ceramic) bracket-system Damon3

10

The number of corrections

586

The number of installed children's plate's

41

Number of installed aligners

14
Return to the list of doctors
Until prices rise - sign up for a free consultation!
Sign up for free online consultation