Sign up for online consultation
Skrytskii Dmytro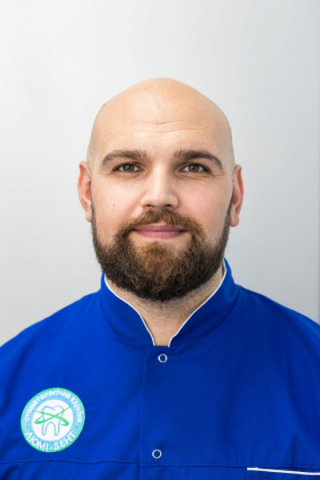 Orthopedist
Make an appointment with this doctor
Orthopedist in Lumi-Dent clinics. Conduct an appointment at the department in Obolon' district.
Education:
International Medical College in specialization of dental technician graduated.

Kiev University of Traditional Medicine in specialization of dentistry graduated.

Kiev University of Traditional Medicine internship.

Ukrainian Military Medical Academy of the Ministry of Defense of Ukraine in specialization of Orthopedic Dentistry graduated.

Organization of Health Care Management department at the P. L. Shupik National Medical Academy of Postgraduate Education graduated.
Specialization, types of activity:
Anti-Age dentistry digital modeling and smile reconstruction with a further forecast and the ability to try on the future design of Wax-up.

Prosthetics on teeth "tooth-preserving minimally invasive techniques".

Micro prosthetics: Anatomical tabs, Veneers.

Fixed, removable, conditionally removable prosthetics on implants.

Fixed prosthetics: cermets, non-metal cermets (E.max), cermets based on zirconium oxide.

Work under magnification, both Binoculars and microscope.

Work under the CTA (computerized anesthesia).

Dental laser usage to obtain aesthetic results.

Multidisciplinary preparation of patients for total prosthetics in cooperation with an orthodontist, surgeon, periodontist and therapist.
Fixed prosthetics:
Crowns: cermets, non-metal highly aesthetic crowns based on zirconium dioxide and E. Max.

Anatomical tabs on the chewing group of teeth as durable alternative to fillings or its usage in case of impossibility for the composite materia to be restored.

Veneers.

Bridges: cermet bridges and based on zirconium dioxide one.

Single and complete prosthetics on implants - AII-4/All-6/All-8.
Removable prosthetics:
Removable prosthetics on implants.

Partially and full removable prosthetics, arch prostheses.
Participated in seminars and courses:
2021
Functional dentistry and Splint therapy;
2020
Smile harmonization with the help of direct and indirect restorations. Clinical protocols for creating optical illusions and matrices of aesthetics;

Bone augmentation mistakes and complications;
2019
Principles of bioequivalent occlusal rehabilitation. Practical aspects of gnatology and occlusiology in clinical protocols;

Practical Course in Sinus-Lifting;

Complications in implants' treatment;
2018
Dental implant planning with immediate loading of prosthetics;

Computerized planning of implantation. Surgical shape implantation;

The art of photography for the proper diagnosis and total motivation of the patient;
2017
Up-to-date questions in dentistry;

Life Changing Dentistry;

Implantation in case of the lower jaw atrophy;
2016
Contact point recovery;

Prosthetics on one-piece and two-piece implants' systems;

Basic Theoretical Course For Implantology;

The frontal and chewing teeth special features of restoration in the concept of natural balls;
2015
Aesthetics or function for prosthetics in the anterior section: is a compromise possible?;

CIS Dental Congress "New Horizons";

Modern aspects in aesthetic restoration;

Precision and aesthetics as the path to success;

The innovative laser technologies usage in the daily clinical dentistry practice;

Modern CAD/CAM restorations and methods of their fixation;

Complete cermet restorations;
2014
The Art of Endodontic Treatment;

Scientific and practical conference in "Paradontology yesterday, today, tomorrow";

The way from endodontics to restoration. Minimally invasive concept;

Clinic Training Course on the treatment with Astra Tech Implants;

Fundamental course in preventive & anti-age medicine;
2013
A predictable long-lasting and aesthetic restoration. A modern approach to aesthetic restoration of the frontal and lateral groups of teeth;

The way from endodontics to restoration. Minimally invasive concept;

1st International Conference on Ortofacial Surgery and Ortodontics held;

Aesthetic Excellence. Advancement of Art and Science in Aesthetic Dentistry;

Modern aspects and prospects of the military dentistry development;
2012
The first Ukrainian international quintessence symposium in the field of periodontics and restorative dentistry;
2011
Radiation diagnosis in the outpatient practice of a dentist;

Current trends in orthopedic dentistry. Prosthetics with all-cermet structures. Total denture prosthetics;
2010
Cermets. Two-day course of orthopedic dentistry;

Endodontics with all the rules. Details and secrets.
| | |
| --- | --- |
| Statistics of Dr. Skrytskii | 2021 |
| Consultations | 206 |
| Cermet crowns | 40 |
| Crowns made of cermet based on zirconium oxide | 201 |
| Veneers | 233 |
Return to the list of doctors
Until prices rise - sign up for a free consultation!
Sign up for free online consultation