Ksenia Simrok
Make an appointment with this doctor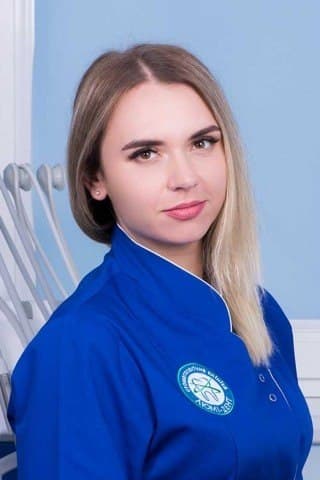 Therapist 
Doctor therapist in the network of dental clinics Lumi-Dent in Kiev, conducts an appointment at the department in Obolon`.
Education:
Graduated from Lugansk State Medical University.

Completed internship at the Lugansk State University and received specialty – general dentistry.

Specialization – therapeutic dentistry.
Specialization, types of activity:
Modern methods of diagnosis and treatment of caries;

Aesthetic restoration of all groups of teeth;

Laser and home teeth whitening;

Treatment of gum disease with modern technologies;

Treatment of periodontitis and periodontal disease;

Root canal treatment under a microscope;

Professional oral hygiene;

Prevention of dental diseases.
Participation in seminars and courses:
Certificate "Modern approach to endodontic treatment", Lugansk, 2012;

Certificate "Simple solutions of complex channels", Lugansk, 2011;

Participated in the 13th world Congress of the international Academy of paradontology, Lviv, 2011.;

"Aesthetics: impression, or mathematics? Modeling of contacts between front and side teeth", Lugansk;

Participated in the 3rd national Ukrainian dental Congress with international participation, Kyiv, 2015.;

"Comprehensive training on orthopedic and surgical solutions Straumann", Kyiv, 2018.

"Symposium "Hyaluronic Acid in Dentistry 2.0" Odessa, 2019.
Statistics of Dr. Ksenia Simrok in the clinic Lumi-Dent for 2019:
Number of held consultations - 297;
Number of installed fillings - 530;
Number of anesthesia - 410;
Number of cleanings - 146;
Number of whitenings - 51;
Number of treated canals - 129;
Number of installed adhesive bridges - 8;
Number of performed plasma Lifting sessions - 13.
Certificates
← Return to the list of doctors