Sign up for online consultation
Radyk Nazariy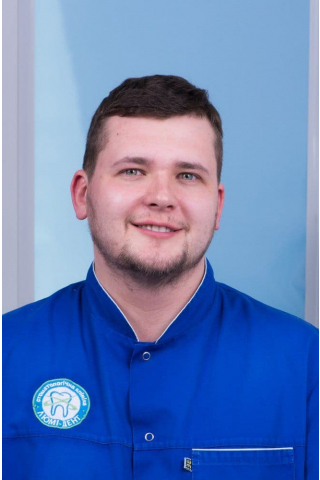 Surgeon-implantologist
Make an appointment with this doctor
Doctor implant-surgeon in the network of dental clinics Lumi-Dent in Kiev, conducts an appointment at the department in Poznyaki Osokorki.
Full member of associations: DGOI, ITI, UAP.
Member of the Czech Dental Chamber (Česká stomatologická komora).
Education:
Graduated from Danylo Galitsky Lviv National Medical University;

Diploma of Dentistry in the Czech Republic (UNIVERZITA KARLOVA);

Passed practice in dental surgery at MDDR JIŘÍ PEKÁREK clinic and Dr. clinic. Klein, Liberec;

Passed practice in the maxillofacial department of the hospital "NaHomolce", Prague.
Specialization, activities:
Dental implantation of any complexity;

3D navigation implantation using surgical templates;

Installation of implant systems Straumann, NobelBiocare, Megagen, Biohorizons;

Performing tooth-preserving operations, dental transplants and replantations;

Maxillofacial surgery;

Plastic surgery of the soft tissues of the oral cavity;

Surgical treatment of periodontal disease;

Osteoplastic surgery (augmentation and sinus lift);

Surgical and therapeutic treatment of the temporomandibular joint;

Piezosurgery;

Use of laser in surgical dentistry;

Conducting surgical procedures under local anesthesia and under general anesthesia.
Participated in seminars and courses:
2018
Congress «Modern Periodontology and Implantation», UAP;


«Complex of orthopedic and surgical disorders of Straumann»;
2017
«Soft Tissue Regeneration», DENTLINE;
2016
Symposium «How to achieve a successful regenerative treatment?», Osteology Foundation;

Courses «Solving Occlusal Problems with the Facial Arc and Articulator in the Daily Work of the Clinic and Laboratory», AMANNGIRBACH;
2013
«Stomatochirurgie - dentoalveolární chirurgie», Praha;

«Stomatochirurgie - praktická implantologie»;
2009
Seminar «Recent trends and technologies in dental implantation», Maximus;
2008
Seminar «Thyroid-mandibular muscle disorders. Epidemiology. Clinic. Diagnosis. Treatment», Maximus;
Statistics of surgeon-implantologist Radyk N. for 2021:
Contucted consultations

737

Operations of implantation

236

The number of installed implants: the total figure and separately by type of implants:

- Neobiotech

25

- MIS

37

- MegaGen

378

- STRAUMANN

85

Installed implants

525

Simple tooth extractions

485

Wisdom teeth removals

174

Sinus lifting performed operations

23

The number of other operations (vestibuplasty, etc.), as well as bone plastics

67
VIDEO REVIEWS OF Dr. Radyk N.
Examples of the work of Dr. Radyk N.
Photo with doctor Dr. Radyk N.
Return to the list of doctors
Until prices rise - sign up for a free consultation!
Sign up for free online consultation