Sign up for online consultation
Radvanskyi Ruslan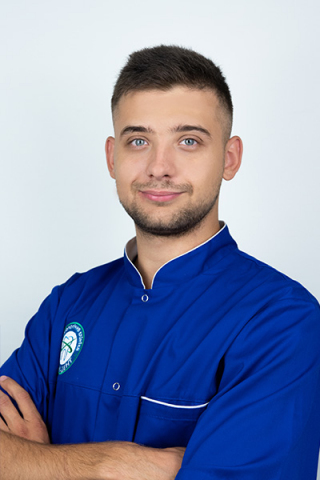 Therapist
Make an appointment with this doctor
Therapist in the network of dental clinics Lumi-Dent in Kiev, conducts an appointment at the department in Solomianka district.
Education:
Graduated from the Kyiv Medical University of UAFM;

Passed an internship at the Kyiv Medical University of UAFM.
Specialization, types of activities of the dentist:
Professional oral hygiene by ultrasonic method, "AIRFLOW" system;

Teeth whitening;

Diagnosis and treatment of caries and its complications;

Aesthetic restoration of all groups of teeth;

Work using the kofferdam system;

Work with a dental microscope;

Endodontic treatment (root canal treatment);

Splinting of teeth;

Fissure sealing;

Preparation of the oral cavity for prosthetics.
Participated in seminars and courses:
2021
«Modern endodontics. Primary endodontic treatment. The protocols»;

«Endodontic retreatment. Planning, protocols and new oppurtunities»;

«Beginning. International scientific and practical conference of young researchers»;
2020
«Direct restoration from A to Z at the daily reception»;

«The art of Dental Photography to diagnosis and motivate the patient for treatment»;

«Dental Forum United Dental Forum»;

«Key points in choosing tactics and techniques for endodontic treatment».
| | |
| --- | --- |
| Dr. Radvanskyi Ruslan statistics | 2020 |
| Consultations | 173 |
| Tooth fillings | 167 |
| Treatment under anesthesia | 165 |
| Professional teeth hygiene | 169 |
| Teeth whitening | 28 |
| Treated root canals | 114 |
Return to the list of doctors
Until prices rise - sign up for a free consultation!
Sign up for free online consultation