Sign up for online consultation
Prytoliuk Valentyna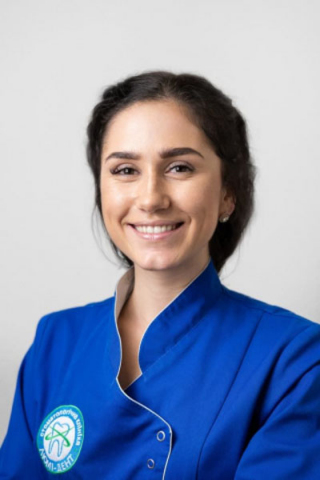 Therapist
Make an appointment with this doctor
Therapist in the network of dental clinics "Lumi-Dent" in Kyiv, takes appointments at the department in Obolon and Solomianka.
Education:
Graduated from Ivano-Frankivsk National Medical University, received the specialty "Therapeutic dentistry".
Specialization, activities:
Comprehensive professional oral hygiene (Scaling, Air Flow, Vector);

Treatment of caries and treatment of teeth plaque;

Performing manipulations using the Kofferdam system;

Aesthetic restoration of the frontal and lateral groups of teeth;

Endodontics (root canal treatment);

Teeth whitening with Beyond, Magic Smile devices;

Using a dental microscope;

Dental fissure sealing;

Application of fiberglass systems.
Dental specialist participated in seminars and courses:
2019
«Artistic rebuilding procedure»;

«Restoration of functional properties of chewing teeth with perfect aesthetic properties»;
2018
«Basics of periodontology»;

«Direct and indirect rebuilding procedure»;
2017
«Harmonic restoration of the functional aesthetics of the lateral teeth»;

«Primary endodontics. Root canal tooling»;

«Root canal tooling»;

«Fundamentals of complex professional oral hygiene»;
2016
«Repeated endodontic treatment. Complicated endo».
| | |
| --- | --- |
| Statistics of a dentist Prytoliuk V. | 2020 |
| Contucted consultations | 291 |
| The number of installed fillings | 254 |
| The number of anesthesias | 317 |
| Cleanings | 133 |
| Whitening procedures | 6 |
| Treated nerve canals | 175 |
| Installed resin bridges | 2 |
VIDEO REVIEWS OF DR. Prytoliuk V.
EXAMPLES OF THE WORK OF DR. Prytoliuk V.
PHOTO WITH A DR. Prytoliuk V.
Return to the list of doctors
Until prices rise - sign up for a free consultation!
Sign up for free online consultation