Sign up for online consultation
Malashenko Lyudmila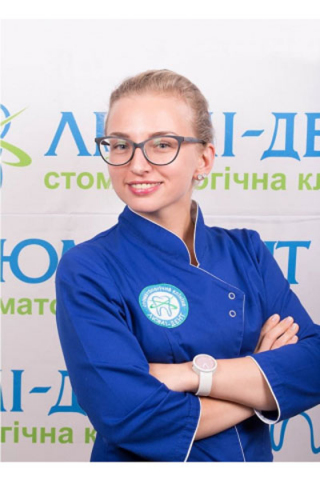 Therapist 
Make an appointment with this doctor
Therapist in the network of dental clinics «Lumi-Dent» in Kyiv, takes appointments at the department in Obolon.
(birth surname Bazylyak, part of the certificates was issued for this surname)
Education:
Graduated from the Kiev Medical University of the Ukrainian Association of Folk Medicine.

Passed an internship at the KMU UAFM.
Specialization, activities:
Hardware methods of oral hygiene;

Home teeth whitening;

Teeth whitening with ZOOM and Beyond polus devices;

Aesthetic restoration of all groups of teeth;

Endodontic treatment;

Maintaining a photo protocol at all stages of treatment;
Participated in seminars and courses, internship:
2021
Master class «Periodontology SMART CONCEPT»;

«Algorithms of secondary endodontics»;
2020
«Primary endodontics. Instrumental processing of root canals»;
2018
«Restoration of temporary teeth»;

«The art of photography for diagnostics and patient motivation for treatment»;

«An integrated approach to the restoration of the chewing group of teeth»;

«The art of restoration of anterior and posterior teeth»;

«Clinical course of modern endodontics. Primary treatment»;

«Repeated endodontic treatment»;

Certificate «Vector-therapy as one of the effective periodontal treatment methods»;
2014
«Direct versus indirect restoration. Chewing group»;

«An integrated approach in dentistry. From endodontics to restoration».
| | |
| --- | --- |
| Statistics of Dr. Malashenko | 2020 |
| Consultations | 197 |
| Tooth fillings | 305 |
| Treatment under anesthesia | 325 |
| Professional teeth hygiene | 241 |
| Teeth whitening | 30 |
| Treated root canals | 152 |
| Installed adhesive bridges | 7 |
| Plasmolifting procedures | 2 |
VIDEO REVIEWS OF Dr. Malashenko L.
EXAMPLES OF THE WORK OF Dr. Malashenko L.
PHOTO WITH A DR. Dr. Malashenko L.
Return to the list of doctors
Until prices rise - sign up for a free consultation!
Sign up for free online consultation