Sign up for online consultation
Madjid Ilyas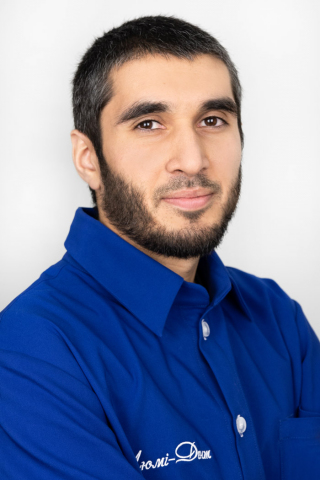 Orthopedist
Make an appointment with this doctor
Doctor dentist orthopedist in the network of dental clinics Lumi-Dent in Kiev, conducts an appointment at the department in Solomianka.
Education:
Graduated from the Bogomolets National Medical University;

Passed the internship at the Bogomolets National Medical University;

Got specialization on the Dentistry at the Bogomolets National Medical University;

Got specialization on the Orthopaedic stomatology at the Ukrainian Military Medical Academy of the Ministry of Defense of Ukraine;

A clinic «Scientific and practical center for dental implantation and orthopedics swissDentaPrime Bulgaria, Germany, Great Britain».
Specialization, activities:
Minimally invasive prosthetics with adhesive ceramic restorations (Inlays and onlays, veneers);

Fixed, removable, conditionally removable prosthetics on implants;

Work under magnification, both Binoculars and microscope;

Fixed prosthetics: cermets, non-metal cermets (E.max), cermets based on zirconium oxide;

Laser correction of soft tissues in the aesthetic zone;

Computer diagnostics of occlusions;

Dental diagnostic photo protocol. Digital planning of aesthetic and functional rehabilitation.
Unremovable prosthetics:
Crowns: cermets, non-metal (zirconium dioxide, ceramic);

Anatomical tabs on the chewing group of teeth;

Aesthetic restoration of teeth with ceramic veneers;

Prosthetics of teeth on dental implants.
Removable prosthetics:
Removable partial acrylic dentures and nylon dentures;

Clasp prosthesis;

Full Removable Dentures;

Removable partial denture.
Participated in seminars and courses:
2021
«Occlusal splints. Basic knowledge for practical application». Lecturer: Ara Geokchyan, Kiev;

«Removable and conditionally removable prosthetics», Kiev;
2020
«Harmonizing the smile with direct and indirect restorations. Clinical protocols for creating optical illusions and aesthetics matrices»;
2019
«Masters International Dental Congress», Kiev;

«Total prosthetics»;
2018
«Digital Protocols in dental practice»;
2016
Certificate «Diastema - Orthodontic or Orthopedic Treatment?»;

«Prosthetic Dentistry: Veneers and Inlays», Fenestra Dental Education Center;
2014
«Spatial model of placement of veneers, taking into account the size and shape of the dentition.

Tasks and Methods of Implementation», Kharkov;
2012
«Successful prosthetics», Kharkov.
| | |
| --- | --- |
| Statistics of dentist orthopedist Madjid Ilyas | 2021 |
| Number of consultations | 206 |
| All porcelain crowns | 61 |
| Full anatomical zirconium dioxide dental crows | 198 |
| Veneers | 164 |
VIDEO REVIEWS OF DR. Madjid I.
EXAMPLES OF THE WORK OF DR. Madjid I.
PHOTO WITH A DR. Madjid I.
Return to the list of doctors
Until prices rise - sign up for a free consultation!
Sign up for free online consultation