Elena Leshchuk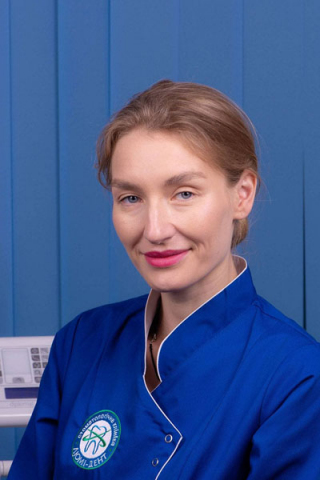 Surgeon-implantologist
Make an appointment with this doctor
Dentist surgeon implantologist in the network of dental clinics Lumi-Dent in Kiev, conducts an appointment at the department in Obolon'.
(from 2004 to 2016 was on the surname of Petukh, part of the certificates was issued for this surname)
Education:
Graduated from the National Medical University named after Bogomolets.

Passed practice in the Department of maxillofacial surgery at the Department of surgical dentistry NMU of A. A. Bogomolets.

Trained in a number of famous clinics in Germany, Austria, Italy.
Briefly about the surgeon-dentist Leshchuk Elena:
Performed many successful surgeries, including dental implants, bone and soft tissue plastics;

The number of dental implants installed is 5800, more than 98% of them are successful;
Specialization, types of activity:
Standard and atypical tooth extraction;

Immediate and delayed dental implantation;

Navigation surgery;

Jaw bone grafting with use a variety of techniques;

Soft-woven plastic according to the author's methods;

Closure of recessions;

Dental periodontal surgery;

Buccal fat extraction.
Surgeon-dentist Leshchuk Elena uses in her practice advanced implant systems Nobel Biocare, Straumann, MegaGen, Mis. Dental surgery is performed under local anesthesia and sedation. Constantly improving their skills. Regularly participates in Ukrainian and international professional dental symposia and conferences.
Participated in seminars and courses:
2018
Modeling of soft tissue to increase bone volume", Kyiv;

«Contemporary treatment of the atrophic posterior maxilla: maxillary sinus surgery and alternative treatments».
2016
"Complications of implantological treatment: from aesthetic failures to peri-implantitis", Kyiv;

«Advanced Bone and Soft Tissue Regeneration Techniques in Implant Therapy», Budapest;
2015
«Concept, Indication and Handling of ANKYLOS Implant system», Bologna;
2013
«The 2nd European Symposium», Madrid;

«Soft tissue management in dental implantology», Vienna;

"Aesthetic management of hard and soft tissues in implantology. Transplantation of autostatic blocks-biological concept", Kyiv;

«Alveolar ridge reconstruction with autogenous onlay block grafts», Vilnius

«New trends in GTR and GBR. Evolution of biomaterials. Contemporary Periodontal Plastic Surgery»;
2012
«Cosmetic and Pre-prosthetic procedures in Periodontology», Moscow;
2011
"Teaching manual scaling", Kyiv
2010
"Actual aspects of modern prosthetics", Kyiv;

"Periodontal treatment in aesthetic dentistry. Periodontal treatment before implant placement. Complication in the installation of implants in the aesthetic zone: preservation of papillae", Kyiv;

"Creation of conditions for implant placement: directed tissue regeneration simultaneously with implant placement, sinus-lifting, bone block transplantation, crest volume increase, soft tissue modeling", Kyiv;

«Orthognathic surgery. Theory and practice with Professor Karl Canberg", Kyiv;

"Effective use of hand tools in hygiene and periodontics", Kyiv;

"Cone tomography", Kiev;

"Nobel Biocare. Modern technologies in implantology and aesthetic dentistry", Kiev;

"Success criteria for prosthetics in the esthetic zone", Odessa;
2009
"Fourth Eastern European conference on dental implantation", Lviv;

«AO CMF Symposium: Current concepts in Maxillofacial Trauma and Reconstruction»;
2008
"Training on dental implantation", Lviv;

"Treatment in the aesthetic zone. Cooperation patient-dentist-dental technician. Prosthetics on implants", Lviv;
 Statistics of the dentist-surgeon, implantologist Leshchuk

2020

Number of all held consultations

1120

Number of installed implants, total number and separately by types of implants:

- Nobel Biocare

117

- MIS

14

- MegaGen

517

- Straumann

208

Total number of installed implants per year

856

Number of simple tooth extractions

817

Number of wisdom teeth extractions

312

Number of performed sinus lifting operations

62

The number of soft-tissue plastic, including the closure of recessions

632

The number of surgeries of bone grafting

73
Return to the list of doctors