Serhii Kurochkin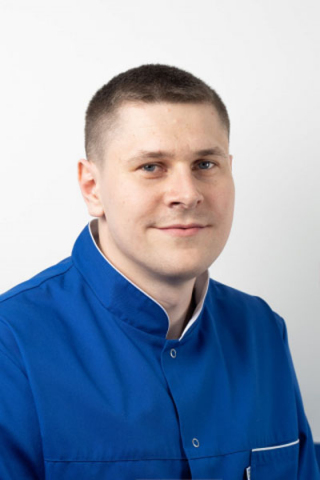 Therapist 
Make an appointment with this doctor
Serhii Kurochkin
Doctor therapist in the network of dental clinics Lumi-Dent in Kiev, conducts an appointment at the department in Obolon'.
Education:
Graduated from Kiev Medical University of the Ukrainian Association of Traditional Medicine.

Passed internship at KMU of UAFM.

Confirmed diploma in Israel.
Specialization, activities:
Treatment of caries and non-carious teeth lesions;

Esthetic restorations of the frontal and lateral groups of teeth;

Work in a cofferdam system and with a microscope;

Endodontics (root canal treatment);

Teeth whitening;

Professional oral hygiene (ultrasonic scaling, Air-flow);
Participated in seminars and courses:
"Modern methods of instrumentation and channel obturation", 2019, Course M. Solomonov;

"Practical nuances of everyday endodontics", 2018;

"Preparatory course in Dentistry", Israel, 2016;

"Restoration of posterior teeth with erasability", 2014.
| | |
| --- | --- |
| Statistics of Dr. Serhii Kurochkin | 2020 |
| Held consultations | 300 |
| Placed fillings | 450 |
| Number of anesthesia | 360 |
| Professional teeth cleanings | 120 |
| Whitenings | 35 |
| Treated canals | 210 |
| Placed adhesive bridges | 5 |
| Number of performed plasma Lifting sessions | 7 |
Return to the list of doctors