Sign up for online consultation
Kiian Veronika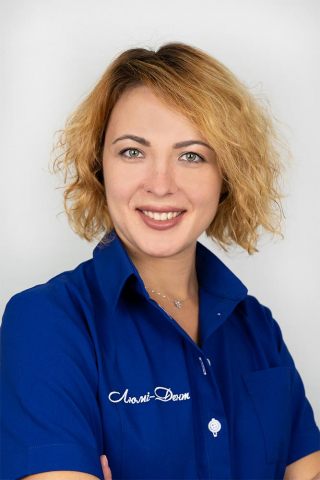 Ortodontist
Make an appointment with this doctor
Orthodontist in the network of dental clinics Lumi-Dent in Kiev, conducts an appointment at the department in Solomianka district.
Education:
Graduated from the Ukrainian Medical and Dental Academy.

Passed an internship at the Ukrainian Medical and Dental Academy.

Received specialization «Orthodontics» in the Kharkiv Medical Academy of Post-graduate Education.
Specialization, types of activity:
Prevention of bite pathologies in children of different ages;

Treatment of malocclusion in children using removable and non-removable devices, as well as trainers;

Orthodontic treatment with all types of braces;

Correction of malocclusion and position of teeth with the help of transparent cap systems (Easy Align, Invisalign);

The use of microimplants as an additional element and support in orthodontic treatment;

Orthodontic preparation of patients before orthopedic treatment, implantation.
Participated in seminars and courses:
2021
«Gnathological orthodontics»;

«Orthodontic Research Service at University of Santiago de Compostela»;

«DSQ Hybrid Technique. The Next Generation of Orthodontics»;

«An integrated approach to the treatment of dental patients»;
2020
«Orthodontic residency. Modern principles of orthodontic treatment, foundations of diagnostics, successful start of practice»;
2019
«MEAW technique class III high angle open bite»;

«Braces H 4 and Orthodontics 3D»;
2018
«Mini Implants-skeletal anchorage»;

«Micro Implant Anchorage Orthodontics»;

«Class II division II. Non-extraction treatment»;

«Functional composite protocol in orthodontics»;

«Management of a patient with TMJ dysfunction»;
2016
«Orthodontics. Start»;

«Orthodontics. Work with arcs»;

«Early orthodontic treatment. Removable orthodontic appliances»;

«Modern technologies of treatment and prevention in practical dentistry».
Dr. Kiian Veronika statistics

2021

Number of consultations

341

The number of braces installed by type

Metal braces

17

Low-profile metal braces

21

Ceramic braces

12

Sapphire (monocrystal) bracket system

9

Self-ligating (metal) bracket system Damon-3 mx

17

Self-ligating (ceramic) bracket-system Damon3

8

The number of corrections

654

The number of installed children's plate's

37

Number of installed aligners

16
Return to the list of doctors
Until prices rise - sign up for a free consultation!
Sign up for free online consultation