Honcharenko Anton
Make an appointment with this doctor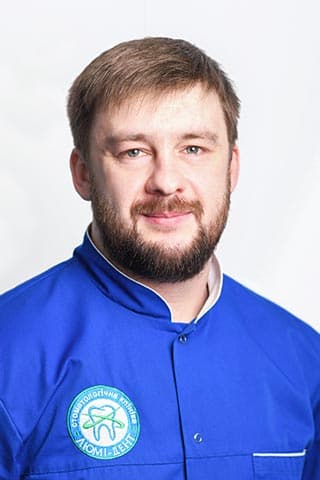 Therapist 
Doctor therapist in the network of dental clinics Lumi-Dent in Kiev, conducts an appointment at the department in Poznyaki Osokorki.
Education:
Graduated from Donetsk National Medical University. M.Gorky.

Specialty "Therapeutic Dentistry".
Specialization, activities:
Professional oral hygiene (ultrasonic scaling, Air-flow);

Treatment of caries and non-carious lesions;

Restoration of the color and shape of teeth with the help of filling materials;

Performing manipulations using the cofferdam system;

Teeth whitening;

Endodontics (root canal treatment);

Working with a dental microscope;

Fissure sealing;

Teeth splinting.
Participated in seminars and courses:
2018:
"Updated Concept ENDO 2018", by Uwe Radmacher;

"Work on the bugs. Endodontic treatment ";

"Therapy. Digital dentistry. Prosthetics";

"Features of dental treatment of pregnant's from A to Z";

"Sixteenth International Conference "New Technologies in Endodontics".
Statistics of Dr. Honcharenko A.N. in the clinic Lumi-Dent for 2019:
| | |
| --- | --- |
| Held consultations | 201 |
| Installed fillings | 480 |
| Anesthesia | 275 |
| Cleanings | 157 |
| Whitenings | 28 |
| Treated canals | 130 |
| Installed adhesive bridges | 7 |
| Performed plasma lifting sessions | 7 |
Certificates
← Return to the list of doctors