Sign up for online consultation
Dmytro Horin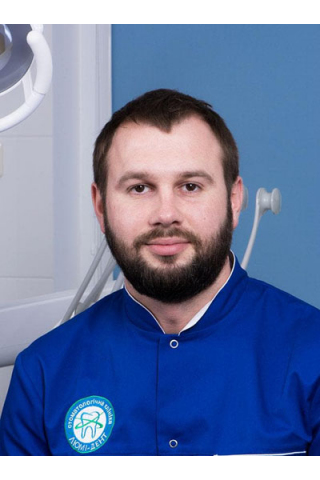 Orthopedist
Make an appointment with this doctor
Doctor dentist orthopedist in the network of dental clinics Lumi-Dent in Kiev, conducts an appointment at the department in Poznyaki Osokorki.
Full member of the Ukrainian Dental Association.
Education:
Graduated from Rivne State Base Medical College, specialization in "Dental Technician".

Graduated from Kiev Medical University UANM, specialization "Doctor - dentist".

He passed specialization in the course "Therapeutic Dentistry" at the Ukrainian Military Medical Academy of the Ministry of Defense of Ukraine.

He passed specialization in the course "Orthopedic Dentistry" at the Ukrainian Military Medical Academy of the Ministry of Defense of Ukraine.
Specialization, activities:
Restoration of the integrity of the dentition and replenishment of lost teeth.

Work with kofferdam.

Computer diagnostics of occlusion and bite T-Scan.

Prognosis of Wax-up prosthetics using an articulator and facial arc.

Using a diode laser in working with soft tissues.

Treatment of diseases of the maxillofacial system through the use of special designs.

Rehabilitation and prosthetics of patients suffering from periodontitis: the use of ultra-light frame material of the new generation BioHPP (crowns conventional or on implants) with veneering of Visio.lign., Bredent (Germany).
Fixed prosthetics:
Manufacturing of metal and all-ceramic stump inserts.

Production of inlays, veneers, crowns and prostheses using the IPS e.max and CERCON metal-free ceramic technique.

Prosthetics of teeth on implants of any complexity.

Making temporary crowns.

Production of all-ceramic ultra-thin veneers using innovative technologies.
Removable prosthetics:
Production of partially or fully removable prostheses, clasp prostheses, prostheses on telescopic crowns based on acrylic, thermoplastic and nylon masses.
Participated in seminars and courses:
2021
"Extreme rehabilitation", Kiev;

"Removable and conditionally removable prosthetics", Kiev;
2020
"Protocols of aesthetic rehabilitation from single to total implantation", Kiev;
2019
"Indirect restoration congress", Moscow;
2018
"Digital principles of implantation", Moscow;

«Participated in the global forum functional dentistry», Moscow;

"International Congress Nobel Biocare", Batumi;
2016
"Orthopedic Dentistry: Veneers and Tabs", Fenestra Dental Education Center;

"Features of the formation of an occlusal surface during prosthetics on implants. Requirements for temporary and permanent crowns ", TRINON TITANIUM;
2013
"Smile Reconstruction", Oral design center Ukraine;

"Qualitative impression without retraction threads or how to work without fittings", Company 3 M ESPE;
2012
"Basics of endodontic treatment", Ukrainian Endodontic Association;
2011
"Free design in the restoration of the front teeth", "Free design of the posterior teeth", APOLLONIA Science Center;
2008
"Aesthetic restoration of the frontal group of teeth", "Clinical techniques for the restoration of the frontal group of teeth by direct restorations", Company 3 M ESPE.
| | |
| --- | --- |
| Statistics of dentist-orthopedist Horin D. | 2020 |
| Number of consultations | 518 |
| Porcelain fused metal crowns | 97 |
| All ceramic crowns | 284 |
| All-ceramic zirconia crowns | 421 |
| Veneers | 580 |
VIDEO REVIEWS OF DR. Horin D.
EXAMPLES OF THE WORK OF DR. Horin D.
PHOTO WITH DOCTOR Horin D.
Return to the list of doctors
Until prices rise - sign up for a free consultation!
Sign up for free online consultation