Sign up for online consultation
Filatov Maksym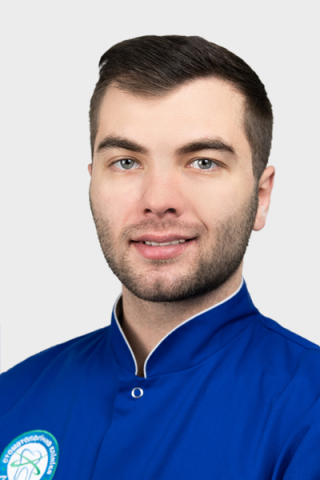 Therapist
Make an appointment with this doctor
Therapist in Kyiv Lumi-Dent clinics, conducts an appointment at the department in Obolon district.
Education:
Graduated from the Ukrainian Medical and Dental Academy;

Passed internship at the Odessa National Medical University.
Specialization, types of activities of the dentist:
Diagnosis of oral disorders and dentoalveolar system;

Treatment of caries and non-carious teeth lesions;

Professional oral hygiene (ultrasonic scaling, Air-flow);

Endodontics (root canal treatment);

Esthetic restorations of the frontal and lateral groups of teeth;

Teeth whitening;

Work with a dental microscope;

Splinting of dentition;

Fissure sealing;

Work with a cofferdam system;

Extraction of debris of dental tools from root canals;

Closure of root canal perforations and resorptions;

Recovery of tooth stump for prosthetics with Build-UP technique;

Adhesive bridge restorations.
Participated in seminars and courses:
2021
«Aesthetic dentistry congress»;

«Technical aspects of canal retreatment»;

«Subtleties of re-endodontics»;
2020
«Primary endodontics. Instrumental treatment of root canals»;
2018
«Artistic restoration of the frontal group»;

«Success technologies. Endodontics without complications»;

«Total aesthetics 3»;
2017
«Modern strategies for the prevention and treatment of dental diseases: world experience and development prospects»;
2016
«An integrated approach to the rehabilitation of dental patients in modern conditions».
| | |
| --- | --- |
| Dr. Filatov Maksym statistics | 2021 |
| Consultations | 182 |
| Tooth fillings | 178 |
| Treatment under anesthesia | 255 |
| Professional teeth hygiene | 137 |
| Teeth whitening | 16 |
| Treated root canals | 172 |
Return to the list of doctors
Until prices rise - sign up for a free consultation!
Sign up for free online consultation