Anna Doman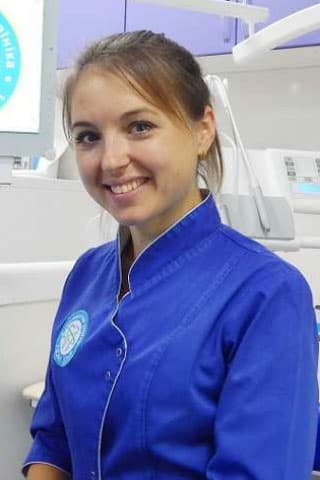 Orthopedist, gnathologist
Doctor dentist orthopedist in the network of dental clinics Lumi-Dent in Kiev, conducts an appointment at the department in Obolon' and Poznyaki.
Education:

She graduated from the National Medical University named after A. Bogomolets.
Works in Kiev in the network of clinics Lumi-Dent, a dentist of the second category.
Specialization, activities:
Modern methods and technologies of aesthetic prosthetics.

Complete patient rehabilitation using articulation diagnostics and facial arc.

Prosthetics with all modern techniques in aesthetic rehabilitation and functional restoration through the manufacture of prostheses with support and fixation on dental implants.
Gnathology - determining the causes and degree of dysfunction of the dental system, and its treatment. A specialist gnathologist helps the patient with abnormalities in the functioning of the temporomandibular joints, increased or asymmetrical tone of the muscles and many other problems. Treatment by a gnathologist helps to avoid and prevent pain in the mandibular joints, malfunction and development of the entire dental apparatus (jaws, chewing muscles, teeth). More neglected situations require the intervention of a dentist-surgeon, but in this case, the help of a gnatologist is necessary. Gnathologist in Kiev helps not only adults, but also children. This specialist works with the help of special equipment, and also uses in his work relief mouthguards and trainers to normalize the dysfunction of the muscular-ligamentous apparatus of the dental-maxillary area.
Unremovable prosthetics:
Articulatory diagnostics and orthopedic stabilization and treatment of TMJ.

Orthopedic restoration and reconstruction of the lost height with the pathological abrasion of any degree.

Aesthetic prosthetics on implants (metal-free ceramics based on zirconium dioxide, press ceramics, metal ceramics, prosthetics on individual and standard abutments).

Metal-free ceramics - veneers. - 3/4 crowns. - 7/8 crowns. - Full crowns based on zirconium, aluminum dioxide, press ceramics).

Production of build up inlay, onlay

Insert construction.

Metal-ceramic crowns and bridges.
Removable prosthetics:
Aesthetic and functional prosthetics on implants using beam and castle fixation with full restoration of the anatomical function of chewing and rehabilitation.

Prosthetics with full removable prostheses using the BPS technology. (Biofunctional prostheses).

Manufacturing of complete removable and partially removable dentures based on acrylic, nylon, thermoplastic masses.

Production of all types of clasp prostheses with the help of: - clamp fixing. - fixing with the help of attachments and milling. - fixing on telescopic locks. - fixing on bolattachments.

Manufacturing of prostheses.

Manufacturing of immediate dentures.
DENTIST GNAThOLOGIST doman a.i. PARTICIPATED IN SEMINARS AND COURSES:
2018
"Integrated Straumann Orthopedic and Surgical Training"

«Occlusive-functional rehabilitation», Dubai;

«VieSID Curriciulum 2017-2», Vienna;
2017
Digital work protocols in practice;

«Philosophy of Prosthodontics», Baku;
2015
"Instrumental processing of root canals. Problems, mistakes and phobias. Ways of solving. Anatomy of root canals. DSD - as an effective communication and planning tool. Diagnostics, planning, decision making in prosthetic dentistry"

First International Symposium of Digital Dentistry in Ukraine;

"Planning dental implantation. Drill guides";
2013
"Features of dental implantation system implants ANKYLOS";

"The art of ceramic restorations, an interdisciplinary approach to aesthetic dentistry";
2012
"Wax modeling (WAX-UP) for the 1st class according to Engle"; "Wax modeling (WAX-UP) for 1 Grade according Engels"
2010
"Occlusion and articulation in dental practice";

"Dissection of the teeth under metal-ceramic and all-ceramic crowns and veneers"

"Preparation";

"Modern protocol of comprehensive aesthetic rehabilitation in orthopedic dentistry".
STATISTICS OF orthopedist-GIATOLOGIST A. I. Doman IN THE LUMI-DENT CLINICS ON THE RIGHT AND LEFT BANKs OF KIEV, in THE residential areas obolon', poznyaki, osokorky – for 2017-2018:
| | | |
| --- | --- | --- |
| | 2017 | 2018 |
| Consultations | 183 | 254 |
| Installed veneers | 111 | 159 |
| Installed porcelain fused metal crowns. | 82 | 340 |
| Number of installed all-ceramic crowns. | 9 | 36 |
| Number of installed whole-piece anatomical zirconia crowns | 68 | 588 |
Examples of the work of Dr. Doman A.
Photo with doctor Doman A.
Certificates
← Return to the list of doctors